Wave goodbye to grime, puddles and more with this textured silicone sponge armed with a squeegee top and non-porous design that was made for wiping and scraping messes away!
Household sponges are often breeding grounds for molds and mildews, but this one is completely bacteria and odor resistant. Our Multipurpose Sponge is a unique and revolutionary dish washing tool, allowing you to effectively clean and wash your dishes easily.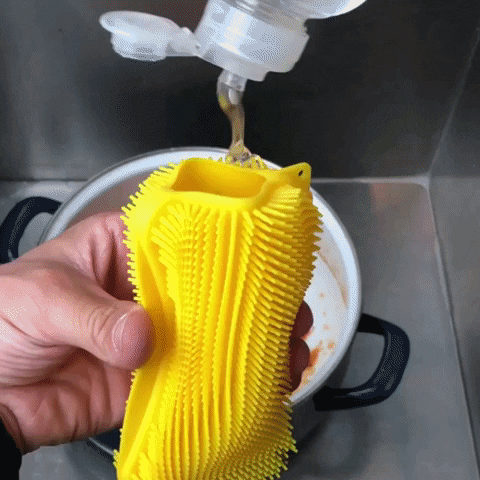 The sponge itself is a liquid detergent dispenser/container. As you squeeze it, bubbles come out of the sponge conveniently. Also, it is made of soft yet durable silicone material, which lasts a very long time.
FEATURES:
Built-in soap dispenser
Textured silicone design scrubs through baked-on grime
Nylon scraper removes food stuck on cookware
Built-in squeegee pushes food off plates and counter tops
Bacteria and odor resistant, BPA free
Nonstick coating, cookware safe
will never tear, break or smell!
SPECIFICATIONS:
Size: 17 x 7.5 x 2.6cm

Material: Silicone
PACKAGE INCLUDES:
1 x 3-in-1 Kitchen Silicone Sponge